I created a mobile campaign strategy for The Steve Nash Charity Classic 2005 event. We created an interactive mobile quiz with #13 questions that got progressively harder for the inaugural Steve Nash Foundation Charity Classic held at the Air Canada Centre in Toronto on July 29 2005. The client was Transl8or (Event Agency) & production partner Magnet.  The purpose was to award prizes and raise money via mobile technology using a premium SMS contest engine.

The event itself overall raised $280,000.00 CDN for the charity and drew over 17,500 people to watch over 20 NBA athletes, Nelly Furtado, k-os and the Wayan brothers in attendance. The event was an NBA sanctioned basketball fundraising game at the Air Canada Centre with Canada's first MVP, Steve Nash. A sold-out show with a TV broadcast on CTV Sportsnet, onsite giveaways, celebrity appearances, half-time show and pre/post elite events around the city.

Key brands supporting included; NIKE Canada, Mercedes Benz of Canada, Toshiba Canada, The Toronto Sun, Sportsnet, MLSE, Nelly Furtado, K-os, BMG Music Canada, Zoom Media.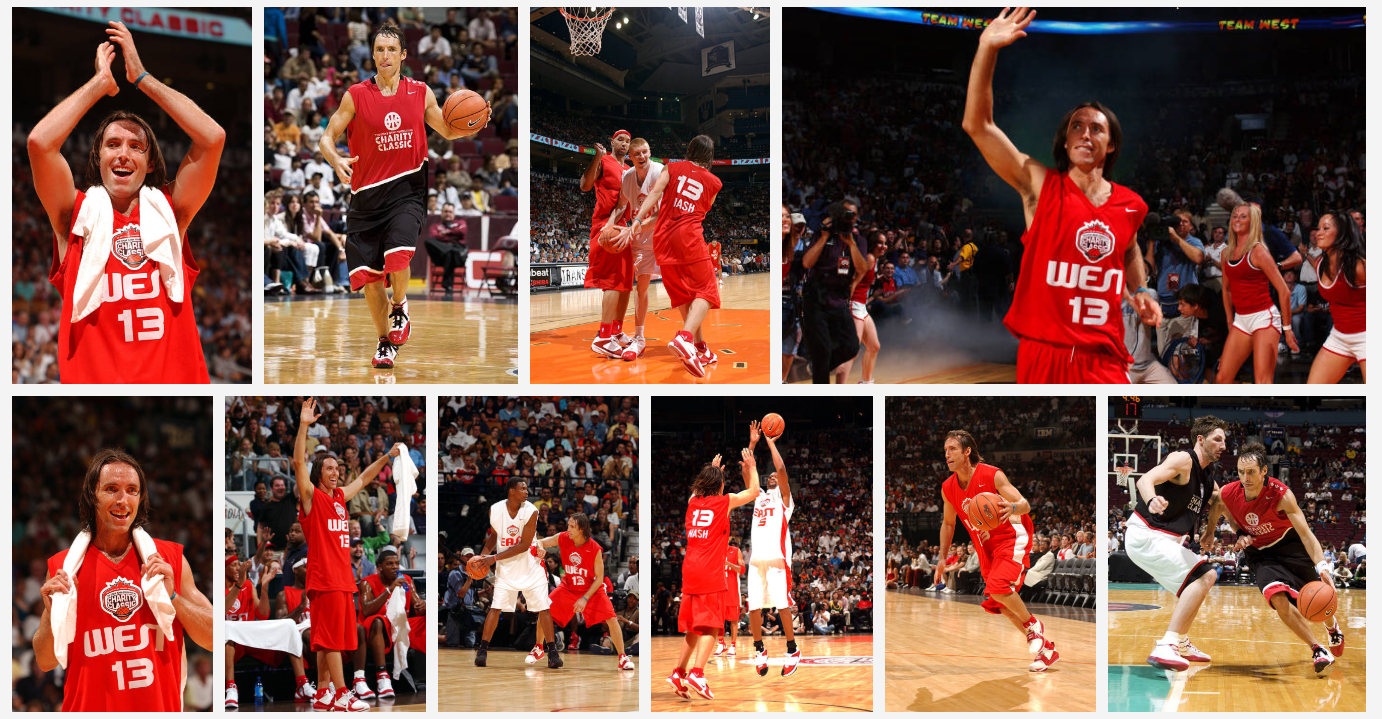 Steve Nash needs no introduction but to refresh your memory of his career highlights; 

Named an NBA all-star eight times!
The best free-throw shooter in NBA history, at 90.4 per cent!
Steve Nash was named MVP of the NBA not just once, but twice – in 2005 and 2006 – making him one of only 10 players to win the award in back-to-back years
Led the league in assists for five seasons, is third in the league overall, with 10,335 assists
Averaged 14.3 points per game in his 18-season career with the NBA
In 2006, he was named one of Time Magazine's 100 most influential people in the world. Represented Team Canada both at the 2000 Sydney Olympics, and in 2004 in Athens.


The Foundation: 
In 2001, Steve formed the Steve Nash Foundation, a charity aimed at helping disadvantaged children. The foundation has awarded Millions to non-profit organizations that focus on child health and education services. The foundation has also contributed significantly toward hospitals.

The goal of the Steve Nash Foundation charity basketball game is to help the underprivileged. Nash was raised in Victoria, but spent a lot of time in Ontario training for the national team. Steve Nash fought tremendous odds growing up in British Columbia to become the NBA's most valuable player. Proceeds from inaugural Steve Nash Charity Classic game went towards establishing an all-access basketball centre in Toronto. Nash held the charity game in Toronto because of his love for the city and to fill a void left behind by the annual summer charity all-star game held by former Raptor Vince Carter.

The 2005 Charity Game: 

The Phoenix Suns point guard invited some of his NBA friends. The West team was comprised of Nash, Marion, Phoenix's Joe Johnson, Cleveland's Drew Gooden and Seattle's Mateen Cleaves. The East team was comprised of Bosh, Bonner, Chicago's Jannero Pargo, Philadelphia's Andre Iguodala, Charlie Villanueva and Raptors Jalen Rose and Morris Peterson. The West team won 171-149 over the East team at the Air Canada Centre. There were several NBA stars that were scheduled to attend but could not make it, most notably Philadelphia's Allen Iverson, Toronto's Rafer Alston, Boston's Ricky Davis, Phoenix's Steven Hunter and Dallas' Marquis Daniels. Their absence did little to quell an exciting night full of fantastic jams, thrilling dunks, killer three-pointers, dazzling passes and defence.
About Steve:
Steve Nash has received almost as many honours off the court as on, largely from his philanthropic work. He has received the Order of Canada, the Walter Kennedy Citizenship Award – the NBA's award for outstanding community work – and an honorary doctor of laws from the University of Victoria. Nash was given the James Naismith Award for his MVP season in a ceremony at Nathan Phillips Square in Toronto the day before the game. Prime Minister Paul Martin was in attendance for the event, called Basketball Day in Canada. 
"I've always got so much support from people across Canada," Nash said. "For them to come and support the event the way they did today and give me the reception they did it is an unbelievable feeling."