#SurrenderYourSay
Role: Senior Producer + Creative Technologist Agency: Saatchi & Saatchi Client: Tourette Syndrome Foundation of Canada Campaign: SurrenderYourSay.com Results: 8,905 people signed up reaching almost 4 Million people in 72 hours. Notes: 1 billion impressions + abundant press coverage globally. SURRENDER YOUR SAY RESULTS Through social media and a 30-second ad on donated TV, the TSFC challenged the public to give up their Twitter feeds for 24 hours on June 19, 2013. The program was called "Surrender Your Say," and by signing up, people allowed the TSFC to randomly tweet Tourette verbal tics directly into their Twitter feeds. These tics were taken from real people living with TS—it was the first time Twitter was used to mimic a medical disorder. The campaign lasted just three days, but it created a global conversation across multiple media. With nearly 9,000 participating over three days. Tweets reached nearly four million followers, while visits to the TSFC website were up 300%. Overall, the campaign delivered 100 million impressions which did not include impressions generated by the thousands of Twitter comments, or by the massive media coverage. View the case study here: http://vimeo.com/73225445 AWARDS 2014 Atomic Awards: Grand Prix, Gold (Collaboration), Gold (CSR), Gold (Idea), Gold (Digital Engagement) 2013 Media Innovation Awards: Best of Show, Gold (Charities & Public Service), Gold (Social Media), Gold (Integrated) CASSIES: Gold (Seasonal & Short-Term) Communication Arts INTERACTIVE: Winner (Social) 2014 Marketing Awards: Gold (Integrated), Gold (Public Service) Cannes Lion Shortlists: PR, Media, Promo & Activation.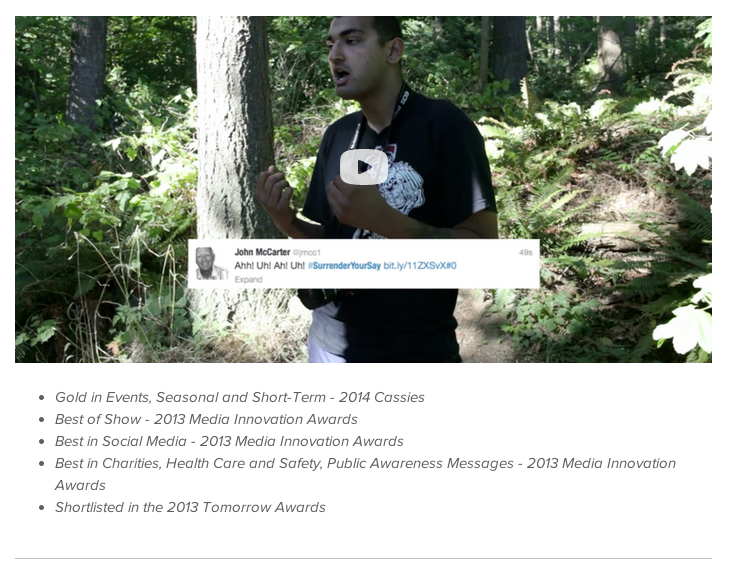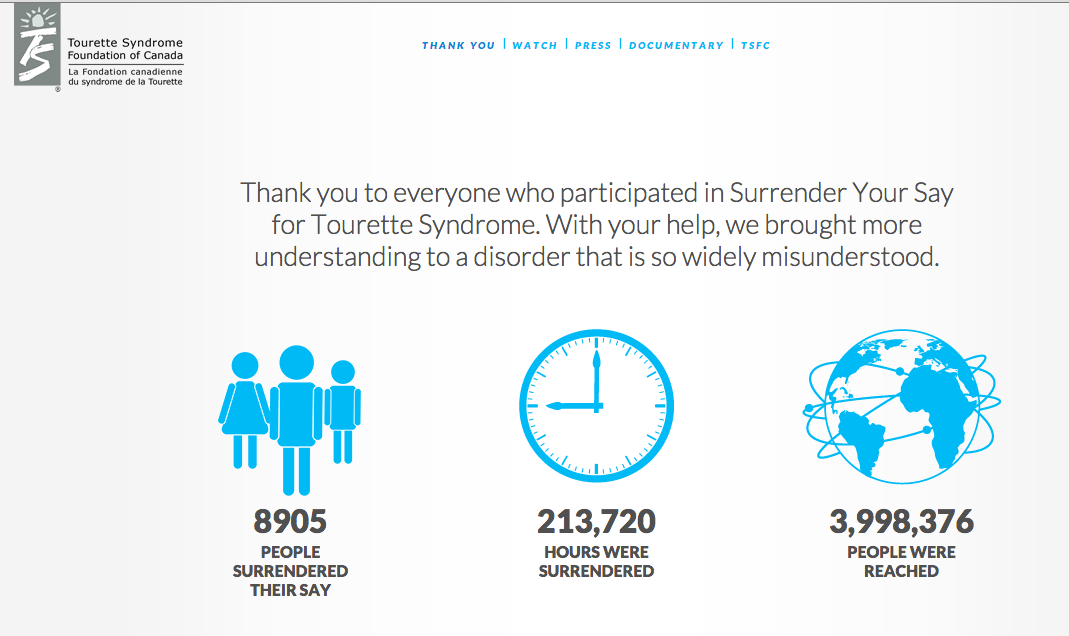 AToMiC winners crowned in Toronto
The awards show recognized powerful Canadian advertising, with the Tourette Syndrome Foundation and Saatchi & Saatchi claiming the Grand Prix.
By Jennifer Horn
May 15, 2014
It's no surprise the Grand Prix at last night's AToMiC Awards went to Tourette Syndrome Foundation of Canada's "Surrender Your Say."
It's the type of powerful advertising that worked in combination with technology, media and content, which is exactly what the AToMiC Awards is all about. But it's also a campaign, created by agency Saatchi & Saatchi, that was recognized for its AToMiC Collaboration, CSR, Idea and Digital Engagement, having won an additional four Gold pieces in each of those categories at the Toronto show.
The campaign did the unthinkable in an era where privacy is sacred, and asked people to hand over their Twitter accounts to the TSFC so it could randomly tweet Tourette tics (such as "I have a biscuit falling through my hair tonight" and "Wave your eyelashes at a peanut butter sandwich") during a 24-hour period in June last year.