What is it?
A Social Media Awareness campaign to raise awareness about Tourette Syndrome.
What did I do?
I was the creative technologist and senior producer on the project. I helped conceive the concept, along with Rachel Kennedy (Art Director) and Shauna Roe (Copywriter). We had the freedom to do something impactful and we wanted to give people the feeling of having Tourettes. To help society understand what this is like, we asked them to experience it for 24 hours, in a place where everyone's watching - Twitter. 
We collectively decided that Twitter would be the best platform so I quickly set about to find a way to give Twitter Tourettes, I also wrote the legal terms and conditions along with my long time collaborator in digital media law, Kerry from CreativeLegal, we ran these T&C's by Twitter who approved and even supported the campaign. I also brought in Andrew and Suzanne from DevelopmentFactory to build the app and the bots. They did a fantastic job and deserve a lot of credit. 
What was the outcome?
One of the most successful and celebrated social media campaigns in Canada. 
Over 8,000 brave Tweeters surrendered their Twitter handles in support of the Tourette Syndrome Foundation of Canada generating over 1,000,000 impressions. 
Canadian Marketing Awards = 6x Gold 
Atomic Awards = Grand Prix + 4x Gold 
Marketing Awards = 2x Gold 
Communication Arts = Winner - Social Media
Media Innovation Awards = Best of Show + 3x Gold 
CASSIES = Gold 
(2014) Cannes Lions = 3 x Shortlist 


To find out what happened, watch the Case study video.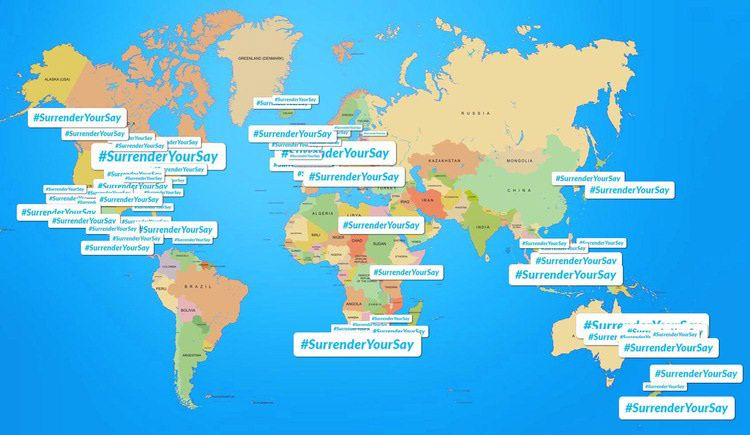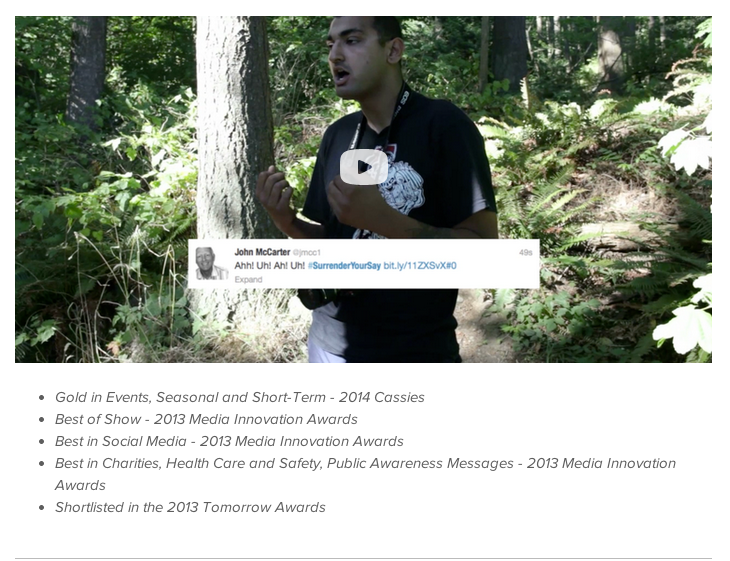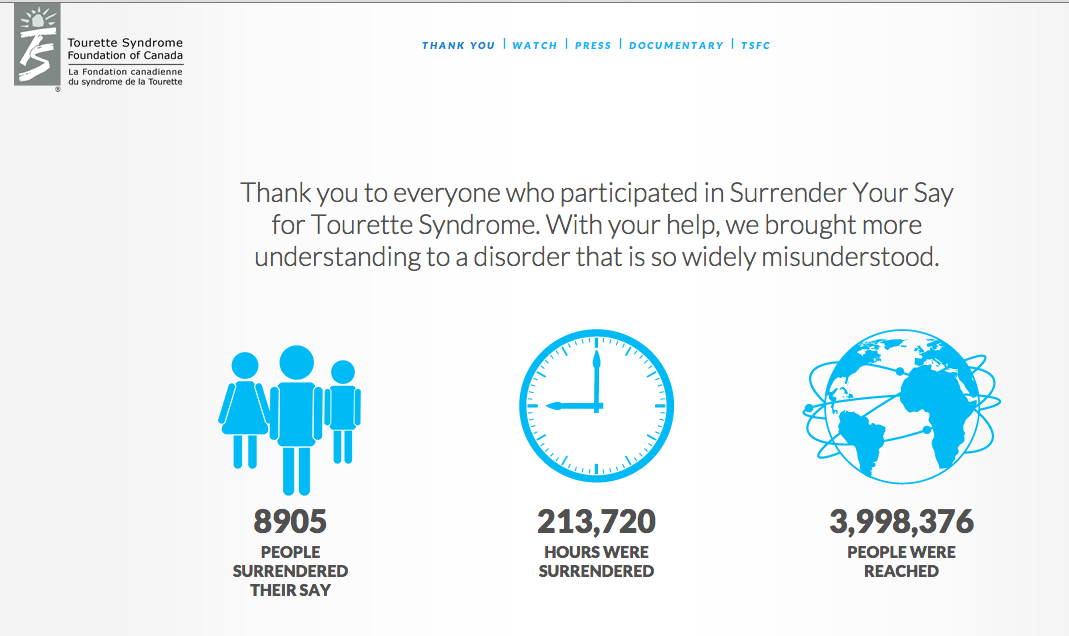 http://www.surrenderyoursay.com/
Tourette Syndrome has a bad rep. Because many of us don't understand what the disorder is all about, we assume that people with TS are angry or insane. The truth is that Tourette Syndrome causes people to say and do things that are completely out of their control.
We named the campaign #SurrenderYourSay. For one day, when and what participants Tweeted was out of their control - just like Tourette Syndrome. Tweets mimicked verbal tics experienced by real people with TS.
The campaign gained popularity and experienced tremendous success. Almost 4,000,000 impressions were generated in only 36 hours, #SurrenderYourSay trended worldwide, and most importantly, people everywhere were starting to understand Tourette Syndrome a little better.
Tourette syndrome is a neurological disorder characterized by repetitive, stereotyped, involuntary movements and vocalizations called tics
Can you handle just 24 hours experiencing Tourette Syndrome?
Are you willing to "Surrender Your Say" ?
AToMiC winners crowned in Toronto
The awards show recognized powerful Canadian advertising, with the Tourette Syndrome Foundation and Saatchi & Saatchi claiming the Grand Prix.
By Jennifer Horn
May 15, 2014
It's no surprise the Grand Prix at last night's AToMiC Awards went to Tourette Syndrome Foundation of Canada's "Surrender Your Say."
It's the type of powerful advertising that worked in combination with technology, media and content, which is exactly what the AToMiC Awards is all about. But it's also a campaign, created by agency Saatchi & Saatchi, that was recognized for its AToMiC Collaboration, CSR, Idea and Digital Engagement, having won an additional four Gold pieces in each of those categories at the Toronto show.
The campaign did the unthinkable in an era where privacy is sacred, and asked people to hand over their Twitter accounts to the TSFC so it could randomly tweet Tourette tics (such as "I have a biscuit falling through my hair tonight" and "Wave your eyelashes at a peanut butter sandwich") during a 24-hour period in June last year.